Drama CDs
Edit
Hiei's Curry
Edit
比叡、カレーを作る (Hiei, Karē o Tsukuru, lit. Hiei makes curry)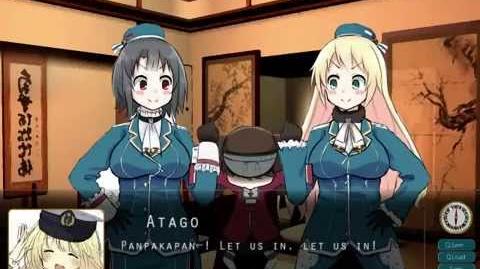 Akatsuki's Dream
Edit
暁の夢 (Akatsuki no Yume, a.k.a. Dreams of Dawn)
Vocal Collections
Edit
KanColle Vocal Collection Volume 1
Edit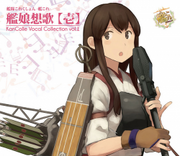 艦隊これくしょん -艦これ- 艦娘想歌【壱】 (Kantai Collection -KanColle- Kanmusume Omoiuta [Ichi])
Artists: Nomizu Iori, Fujita Saki, & Suzaki Aya
Publisher: Kadokawa Games
Released August 3, 2014
Track 1: On the Dawn's Horizon
Track 2: Morning at the Naval Base
Track 3: instrumental version of track 1
Track 4: instrumental version of track 2
KanColle Vocal Collection Volume 2
Edit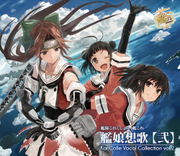 艦隊これくしょん -艦これ- 艦娘想歌【弐】 (Kantai Collection -KanColle- Kanmusume Omoiuta [Ni])
Artists: Sakura Ayane & Touyama Nao
Publisher: Kadokawa Games
Release: August 3, 2014
Track 1: The Splendid 2nd Torpedo Division
Track 2: Our Bond with the Admiral
Track 3: instrumental version of track 1
Track 4: instrumental version of track 2
KanColle Vocal Collection Volume 3
Edit
艦隊これくしょん -艦これ- 艦娘想歌【参】 (Kantai Collection -KanColle- Kanmusume Omoiuta [San])
Artists: Iguchi Yuka
Publisher: Kadokawa Games
Track 1: Cape Kaga
Release: March 29, 2016

Purchasable on: TBA
加賀岬 (Kaga Misaki)
Seiyuu: Iguchi Yuka as Kaga

Track 2: Cape Kaga Kai
Track 3: instrumental version of track 1
Track 4: instrumental version of track 2
Original Sound Tracks
Edit
KanColle Original Sound Track -Akatsuki-
Edit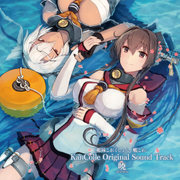 艦隊これくしょん -艦これ- KanColle Original Sound Track 暁 (Kantai Collection -KanColle- Original Sound Track Akatsuki)
Composers: Usami Hiroshi (1,2,3,4,5,11), Ohkoshi Kaori (7,8,9,10,12,13,14,15,16), Okamiya Michio (6)
Publisher: Kadokawa Games
Release: August 3, 2014
Japanese Titles & their Romanization
| | | | |
| --- | --- | --- | --- |
| No. | Japanese | Romanization | English |
| 1 | 「母港」 | Bokou | Home Port |
| 2 | 「出撃」 | Shutsugeki | Sortie |
| 3 | 「全 艦娘、突撃!」 | Zen kanmusu, totsugeki! | All Ship Girls, Attack! |
| 4 | 「工廠」 | Kōshō | Arsenal |
| 5 | 「昼戦 (砲雷撃戦、始め!)」 | Hirusen (Hō raigeki-sen, hajime!) | Day Battle (Surface Battle, Begin!) |
| 6 | 「夜戦」 | Yasen | Night Battle |
| 7 | 「海上護衛戦」 | Kaijō goei-sen | Naval Escort Battle |
| 8 | 「我、敵機動部隊ト交戦ス」 | Ware, teki kidō butai to kōsen su | Battle the Enemy Task Force! |
| 9 | 「決戦!鉄底海峡を抜けて」 | Kessen! Tetsu soko kaikyou wo nukete! | Decisive Battle! Through Ironbottom Sound! |
| 10 | 「冬の抜錨!」 | Fuyu no batsubyō! | Set Sail in Winter! |
| 11 | 「敵超弩級戦艦を叩け!(夜戦アレンジ)」 | teki chō dokyūsenkan o tatake! (Yasen arenji) | Attack the Enemy Super Dreadnought Battleship! (Night Battle Arrangement) |
| 12 | 「索敵機、発 艦 始め!」 | Sakuteki-ki, hakkan hajime! | Scout Planes, Take Off! |
| 13 | 「敵艦隊、見ゆ!」 | Teki kantai, mi yu! | Enemy Fleet, Spotted! |
| 14 | 「二水戦の航跡」 | Nisuisen no kōseki | Wake of the Second Torpedo Squadron |
| 15 | 「次発装填、再突入!」 | jihatsu sōten, sai totsunyū! | Next Round Loaded, Re-engage! |
| 16 | 「提督との絆(実装BGM版)」 | Teitoku to no kizuna (jissō BGM-ban) | Our Bond with the Admiral (Implemented BGM Version) |
War Outbreak Collection Pack
Edit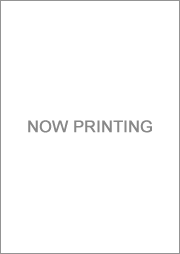 開戦これくしょんパック (Kaisen Collection Pack)
Composers: Usami Hiroshi (1,2,4), Okamiya Michio (3)
Publisher:
Release:
01	Sortie preparation
02	Cannons and Torpedoes, Fire!
03	Night battle!
04	Fleet battle

KanColle New Year's Sound CD
Edit
「艦これ」お年玉サウンドCD (KanColle Otoshidama Sound CD)
Composers: Ohkoshi Kaori
Publisher:
Release: January 1, 2015
Bundled with the KanColle Journal compilation
01	Combined Fleet, sortie!
02	The Return of Musashi
03	Hiryuu's Counterattack 
04	Moon of the Fall Sky (Akizuki's Sky)
05	Assault! Aircraft Carrier Task Force

A few are machine translated
Not Released
Edit
Ad blocker interference detected!
Wikia is a free-to-use site that makes money from advertising. We have a modified experience for viewers using ad blockers

Wikia is not accessible if you've made further modifications. Remove the custom ad blocker rule(s) and the page will load as expected.