Exchange
Edit
The present box can be open through the item screen: You can choose 1 box, which contains one of the following: 
Color
Name
Contents
[Red Box]
資源/Resource

✕ 550

and

✕ 550

[Green Box]
甘味/Sweets

✕ 1

[Grey Box]
資材/Material

✕ 3

and

✕ 1
How to Obtain
Edit
During December 2014, Present boxes could be obtained instead of the usual ship drop. Instead of the usual ship drop notification, a different one will appear "Box found & retrieved":

This will notify you that you've received a Christmas gift "Present box obtained":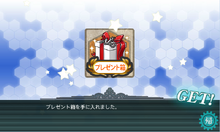 Since 2015, in certain extra operation maps (only 1-6 for now), a present box is given to players after they destroy the boss gauge every month.
Occasionally it would also be reward of some event/limited time quest, etc.
Extra Operation map 1-6
Edit
Given after the boss gauge of 1-6 is cleared
Can be obtained once every month.
Mission Reward
Edit
B37:「第二一駆逐隊」出撃せよ!

Consists of Hatsuharu, Nenohi, Wakaba and Hatsushimo. You may add up to two additional ships. You MUST deploy to World 3-1, and obtain an S-rank victory at the boss node.
B51: 新編「第二一戦隊」北方へ出撃せよ!

Sortie Nachi(Kai-2), Ashigara(Kai-2), Tama, Kiso and up to 2 additional ships to World 3-1 and obtain an S-Rank at the boss
B52: 「第十六戦隊(第一次)」出撃せよ!

Sortie Ashigara as flagship, Kuma, Nagara and up to 3 additional ships to World 2-2 and obtain an S-Rank at the boss
2014 Special
Edit
Known Drop conditions
Edit
Boss Nodes (with some exceptions)
S-rank victory higher chance
A-rank victory still some chances
Can be drop even with Max ship
Obtainable in the following maps Edit
Unless specified, all drops are from the boss node.
1-4
1-5
1-6 (Doesn't drop if you cleared it in the same month)
2-3
2-4
2-5
3-2
3-3
3-4
3-5 (F node with Northern Princess and K node with boss)
4-3
4-4
5-3 (D and F)
5-5
6-1 (H node with Aircraft Carrier Princess and K node with boss)
6-2
Via December, 24th 2015 Update

A Present Box is received upon logging in on Christmas Eve.

Unless you really need resources, it is recommended to choose the Material Box as those are more efficient and harder to obtain. Irako can be used to boost your ships to sparkle but you can do that manually.
Currently, there seems to be no limitation on how many present box you can store.