Latest Maintenance: 18th October 2017
Next Maintenance: 25th October 2017
| Time until maintenance starts (JST): | Time until maintenance ends (JST): |
| --- | --- |
| October 25 2017 11:00:00 +0900 Maintenance has begun. | October 25 2017 19:00:00 +0900 Maintenance has ended. |
| Maintenance start date and time: | October 25 2017 11:00 |
| Expected maintenance end date and time: | October 25 2017 19:00 |
| Actual maintenance end date and time: | |
---
Latest Updates
Edit
For a full debriefing on the game update (including developer tweets), you may wish to refer to this link.
The Saury 2017 Mini-Event comes to an end.

Saury limited-time quests will no longer be available.
Any Saury in possession will disappear from the inventory.
End of Coastal Defense Ships (DE) Limited-time Drop
Edit
KanColle Android Updated to 1.0.11
Edit
Update required from DMM GAMES App.
Seasonal CG
Edit
Yukata, Saury mode, Fishing mode Seasonal CGs are over.
Each respective Seasonal mode will be added into the Library.
The following girls have new/returning Seasonal CG:
NEW! Autumn Casual Outfit Seasonal CG:
NEW! Halloween CG:
Returning CG:
UI Enhancements
Edit
Button changes

Sortie and Expedition section's UI/Button has been slightly changed/updated.

Fixes

In the Composition and Resupply sections, the nuisance of where you had trouble in controls due to the smoke coming out from the Damaged Ships has been fixed.

OPTION update

It is now possible to mute the BGM and other sounds with One Click.

Furniture store UI update

The Furniture Store/Internal Change has been slightly changed/updated.
For Furnitures with Headquarters BGM change, a Music Fairy will be shown.
Expedition update
Edit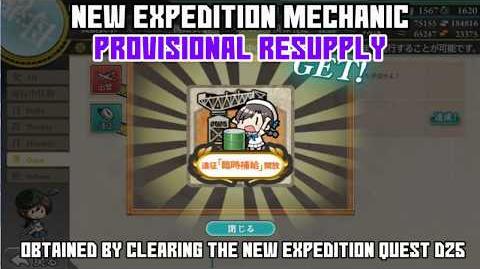 New "provisional resupply " in expedition page.

NOTE: Quest D25 must be cleared first in order to obtain the item (遠征「臨時補給」開放) that allows such function.
Can be used in the Expedition Preparation section by fulfilling a certain requirement
Can be used to resupply the expedition fleet on the expedition start screen.
No additional item is required in order to use provisional resupply.
Expeditions A2 and A3 can give Great Success without sparkling or special equipment.
Expedition 24 needs to be cleared for A3 to appear. Other requirements are uncertain.
Aircraft Carrier Cut-in (CVCI) update
Edit
CVCI has been updated where the Aircraft's Proficiency will determine the Attack Success Rate/Critical Attack Success Rate/Critical Damage Output and etc.
The first slot bomber will also increase the attack success rate depending on its proficiency.
ID
Requirements
Rewards
Note
B107

補給線の安全を確保せよ!


Secure the Safety of the Transportation Route!
Sortie a fleet with Light Cruiser as flagship, 2 or more Destroyers/Coastal Defense Ships. You may bring up to 3 additional ships.
Sortie to World 1-3, 1-4, 1-5 and obtain at least A-rank victories at the boss node.
300 / 300 / 0 / 0
X 1


Underway Replenishment x 1
Requires: ?
D25

遠征「補給」支援体制を強化せよ!


Reinforce the Expedition Resupply Support Regime!
Prepare 800 Steel in your inventory, complete Expedition A1.
200 / 200 / 0 / 0

Provisional Resupply
X 2
Requires: B107
D26

近海に侵入する敵潜を制圧せよ!


Suppress the Enemy Ships intruding into the close seas!
Complete Expedition 4, A2, and A3 twice each per Expedition.
0 / 1000 / 0 / 300
X 3,


Type 95 Depth Charge
Requires: D24, D25

Quarterly Quest
---
Future Updates
Edit
Last maintenance before Fall 2017 Event
A destroyer Kai Ni (Michishio?) is planned for release.
Planned to take place in november.
A new Akizuki-class Destroyer Suzutsuki is confirmed to be appearing this Fall.
A British Destroyer has been announced for future appearance.
Kancolle will migrate from Flash to HTML 5 starting from spring 2018.
Implementation of "friendly fleet" system also planned for spring 2018.
---
Previous Update
Edit
For a full debriefing on the game update (including developer tweets), you may wish to refer to this link.
The Limited-time Saury Mini-Event has started and will last for about 2 weeks!

Special equipment can be used to increase the drop rate of Saury fishes:
Coastal Defense Ships can be also used to increase effectiveness of drop chances.
Coastal Defense Ships will be available as limited-time drop during the Saury Mini-Event only.
Known drop locations (on boss nodes) for DE are the following:[1]
Modernization Update
Edit
Using Coastal Defense Ships as modernization fodders will increase and stats. Please note that ship classes that have 0 base stat will not receive the modernization.
This content is pre-released. There are possibilities of it receiving further adjustments in the future.
New BGM [鎮守府秋刀魚祭り改二] will appear in fishing spots (1-1, 1-5, 1-6, 3-1, 3-2, 3-3, 3-4, 3-5, 6-1, 6-5) and in Jukebox.

You can listen to the new BGM here:
In addition, 3-5 and 6-5 Boss node has another BGM, Tsukiyomi, originally able to listen via phonograph:

The Naval Base Counter Bar has been updated to show certain dishes as Saury Cookings.
Cheat detection has been enhanced.
The following girls have new/returning Seasonal CG:
NEW! Mackerel Pike Festival CG
NEW! Naval Review CG
NEW! Autumn Casual CG
NEW! Shopping CG
Returning CG
| Class | Ship girls (110) |
| --- | --- |
| Destroyers (51) | Akatsuki, Akebono, Akigumo, Amagiri, Amatsukaze, Arare, Arashi, Arashio, Asakaze, Asashimo, Ayanami, Fumizuki, Harukaze, Hatakaze, Hatsukaze, Hatsuzuki, Hibiki, Ikazuchi, Inazuma, Isokaze, Kamikaze, Kasumi, Kikuzuki, Kisaragi, Maikaze, Makigumo, Matsukaze, Michishio, Mikazuki, Minazuki, Mochizuki, Murasame, Mutsuki, Naganami, Nagatsuki, Oboro, Ooshio, Oyashio, Sagiri, Satsuki, Sazanami, Shigure, Shikinami, Shimakaze, Shiratsuyu, Uranami, Ushio, Uzuki, Yamakaze, Yayoi, Yuugumo |
| Light Cruisers (12) | Agano, Jintsuu, Kiso, Kuma, Naka, Noshiro, Ooyodo, Sakawa, Sendai, Tama, Yura, Yuubari |
| Heavy Cruisers (10) | Aoba, Atago, Kinugasa, Kumano, Mikuma, Mogami, Pola, Suzuya, Takao, Zara |
| Battleships (14) | Fusou, Gangut, Haruna, Hiei, Iowa, Kirishima, Kongou, Musashi, Mutsu, Nagato, Richelieu, Warspite, Yamashiro, Yamato |
| Light Carriers (3) | Houshou, Ryuuhou, Ryuujou |
| Standard Carriers (7) | Aquila, Ark Royal, Graf Zeppelin, Hiryuu, Souryuu, Taihou, Unryuu |
| Submarines (5) | I-168, I-58, Luigi Torelli, Maruyu, I-26 |
| Auxiliaries (8) | Akitsu Maru, Etorofu, Kamoi, Kashima, Kunashiri, Matsuwa, Shimushu, Taigei |
| Seiyuu (25) | |
| --- | --- |
| Akasaki Chinatsu | Aquila, Pola, Zara |
| Bridcut Sarah Emi | Hatsukaze, Kumano, Maikaze, Suzuya, Yuubari |
| Chinami Hashimoto | Iowa, Yamakaze |
| Fujita Saki | Fusou, Yamashiro |
| Hayami Saori | Graf Zeppelin |
| Hayasaka Kozue | Akebono, Oboro, Sazanami, Ushio |
| Hidaka Rina | Fumizuki, Kikuzuki, Kisaragi, Mikazuki, Minazuki, Mochizuki, Mutsuki, Nagatsuki, Ryuujou, Satsuki, Uzuki, Yayoi |
| Hondo Kaede | Oyashio |
| Itou Shizuka | Asakaze |
| Kawasumi Ayako | Isokaze, Kamikaze, Ooyodo, Unryuu |
| Kayano Ai | Arashi, Asashimo, Kashima |
| Misato | Musashi |
| Miyagawa Wakana | Arare, Arashio, Kasumi, Michishio, Ooshio |
| Nakajima Megumi | I-168, I-58, Hatsuzuki, Kinugasa, Mikuma |
| Noto Mamiko | Akitsu Maru, Harukaze, Maruyu, Taihou |
| Ogura Yui | Amatsukaze, I-26, Taigei, Ryuuhou |
| Sakura Ayane | Jintsuu, Kiso, Kuma, Mutsu, Nagato, Naka, Sendai, Shimakaze, Tama |
| Suzaki Aya | Akatsuki, Aoba, Hibiki, Houshou, Ikazuchi, Inazuma, Mogami |
| Taketatsu Ayana | Akigumo, Makigumo, Naganami, Yamato, Yuugumo |
| Tanibe Yumi | Murasame, Shigure, Shiratsuyu, Yura |
| Touyama Nao | Atago, Ayanami, Haruna, Hiei, Kirishima, Kongou, Shikinami, Takao |
| Uchida Shuu | Warspite |
| Uesaka Sumire | Hiryuu, Souryuu, Uranami |
| Yamada Yuki | Agano, Noshiro, Sakawa |
| Unknown | Matsukaze |
ID
Requirements
Rewards
Note
SB01

秋刀魚漁:「秋刀魚」を収獲する所存です!


Saury Fishing: I will try to gather sauries!
Have 4 saury fishes in your inventory.
800 / 0 / 0 / 0
choice between
Furniture Fairy X1
or
X4
NEXT
choice between


Type 3 Active Sonar X1
or


Searchlight X1
or


Combat Ration X4
Requires: ??
Unlocks: SB02
SB02

秋刀魚漁:漁を全力で支援する覚悟です!


Saury Fishing: All hands on deck, provide fishing support!
Have 12 saury fishes in your inventory.
1200 / 1200 / 0 / 0
choice between


Daihatsu Landing Craft X1
or


WG42 (Wurfgerät 42) X1
or


New Model Aerial Armament Materials
NEXT
choice between


Swordfish X2
or


Shiden Kai 2 X2
or
Skilled Crew Member X1
Requires: SB01
Unlocks: SB03
SB03

秋刀魚漁:どーんっ!揚げ揚げで大漁です!


Saury Fishing: KABOOM! It's a big catch! Fried and grilled even!
Have 30 saury fishes in your inventory.
3000 / 3000 / 3000 / 1000
Type 17 Fleet Fishery Banner X1
AND
choice between


Type124 ASDIC X1
or


TBF X1
or
Type 16 Fleet Fishery Banner X1
Requires: SB02
New Furniture
Edit
References
Edit
The following is a summary. Click the title link for the full report.
New equipment
Edit
The 「ASDIC」 series Equipment of the Royal Navy from today are pre-released content. They are currently planned to be added into main contents in a later update where they will be available to obtain from the New Ship Girl related Quest(s), and Improvements via Akashi's Improvement Arsenal.
ASW (Anti-Submarine Warfare) combat mechanics will have further contents in a later update.
Type 4 Passive Sonar

has received slight improvements to its stats (+1 Armor).
Long term future
Edit
See Hinted Content page. (Outdated)
Archived updates
Edit