Introduction
Edit
The Reinforcement Expansion is an item added in the August 10th 2015 update along with the Summer Event. Having the item allows you to reinforce a ship to permanently add an additional consumable equipment slot.
The reinforcement will remain after a remodel. This means you can equip a ship with valuable equipment like Damecons without compromising the main equipment.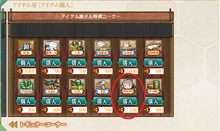 Currently, the Reinforcement Expansion is available as an event map reward, as a quest reward from
B90
 , 
B103
 and 
B104
 or through the Shop for 500 DMM points.
Requirements
Edit
Your Kanmusu's level must be at least Level 30 to install the Reinforcement Expansion.
To use the Reinforcement Expansion: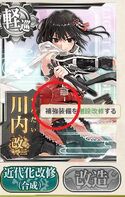 Go into the equipment menu
Select the ship you wish to add a slot to
Mouse over the portrait at the right to the Kanmusu's name label but not the "remodeled" word: 改/改二/甲/zwei/drei/etc. You should see some words appearing in the portrait when you have done it right. Once those words appear, left click.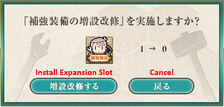 Confirm with the left button (cancel with the right)
The extra slot will appear over the portrait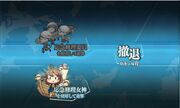 When properly equipped and when the flagship is heavily damaged during a sortie, the following screenshot is presented. In this case, it's with the Emergency Repair Goddess.
Restrictions
Edit
This additional slot can be used for certain consumables:
The slot can also be used for certain equipment, including: