This article is missing some information.
You can help by adopting it and adding the missing information.
This article is open for adoption.
Sandbox Page Purpose
Edit
Currently there's little centralization for questions of the interface. The Tutorial: How to Play does a fair job of introducing the core gameplay screens, but other pages such as Shop are on separate pages or are buried in the FAQ like the Admiral Stats screen. Further, to the best of my knowledge, there are in game screens that have no wiki page at all (The ranking screen on the admiral stats page, the Inventory Cash shop subpage).
Ideally this page should serve as a tree-like introduction to the various screens available, starting at the main screen and branching into the various available sub-pages. Each entry should have either a full description of the screen's elements or a short description with a link to an independent page (as in the Shop page).
I can foresee three potential fates for this page:
The page is rejected entirely as being unnecessary.
The new page descriptions are merged into the existing Tutorial: How to Play while the rest is rejected due to duplicate information.
The new page is inducted as a new tutorial/general UI page
Introduction
Edit
_Text Only Button Example_ _Icon Button Example_ Kancolle's User Interface is primarily composed of stylized buttons in Japanese. While many of the buttons are entirely text, the most common elements have integrated icons which help indicate their function. Much of learning to play Kancolle is memorization of the buttons for particular functions. As such, this tutorial aims to describe all of the interfaces of the game. [...more?]
Game Introduction
Edit
Upon first launching the game with a new account, you will be presented with this screen to select you first destroyer class ship. See the How to Play tutorial for more details.
Main Screen
Edit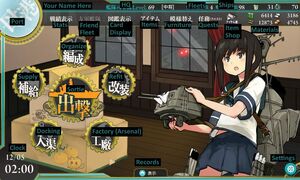 This is the main screen the game will load to for all subsequent game sessions. Many admirals will spend a lot of time staring out the window from here and poking their secretary ship.
Main Functions
Organize - Organize your fleets for sorties and expeditions
Supply - Refuel your ships and resupply them with ammunition and planes
Refit - Change the equipments on your ships, remodel or modernize them by sacrificing unwanted ships
Docking - Repair your damaged ships
Factory - This is where you go for ship construction, ship dismantle, equipment development and equipment discard
Sortie - Send your fleets to battle or on an expedition to gather materials
Top Bar
Admiral Name - Your name here
Headquarters Level - The level of your headquarters
Fleets - The number of active fleets available, increased by completing certain quests to a maximum of 4
Ships - The number of ships available for your fleets
Instant Repairs - Consumable used to instantly repair a damaged ship in the docks (also called Buckets)
Development Materials - Consumable used in Constructing new ships and Developing new equipment
Top Menu
Port - Return to your main screen
Stats - See statistics about yourself and set your greeting message
Friend Fleet - Not in the game yet
Card Display - Display your collection of ships and equipments. You can also re-watch the marriage of your married ships here.
Items - See your inventory of miscellaneous items such as medals , furniture boxes, buckets, instant build items and cash items.
Furniture Makeover - Change the appearance of the room on your main screen
Quests - Complete quests to receive materials, ships and other rewards
Shop - Buy stuff with real money, or furniture with coins found in furniture boxes
Materials - You need these to resupply, repair and create things in the Factory. They are:
Admiral Statistics
Edit

Main Statistics
Edit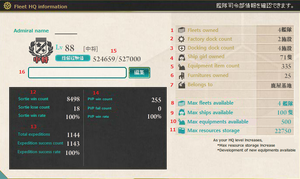 A Page displaying a variety of your admiral's statistics.
The number of fleets you currently own.
The number of construction docks you currently own.
The number of docking docks you currently own.
The number of ships you currently own.
The number of equipment you currently own (including those equipped on your ships).
The number of furniture you currently own.
The server you belong to.
The maximum number of fleets you can have. (Second fleet, third fleet and fourth fleet can be unlocked through quests.)
The maximum number of ships you can have. (This can be increased by purchasing the [Port expansion item/母港拡張]. Each expansion will increase 10 maximum ships available)
The maximum number of equipment you can have. (This will be increased by 40 when a [Port expansion item/母港拡張] is used.
The resource regeneration limit. (This is not the real resource cap. Reaching the maximum resource storage will stop resource regeneration. You can still gain resources through sortie, quests and expeditions. The absolute resource cap is 300,000 regardless of admiral level.)
Your sortie results. (Sortie win rate was a requirement for the past events)
Your expedition results.
Your PVP results.
Your admiral level. (current EXP/EXP required for next level)
Comment box. (This will be shown in the ranking list)
Ranking Page
Edit

A Page showing your Ranking compared to other admirals in your server. The ranking table columns are: Rank Number, Admiral Name, Admiral Title, Admiral Comment, and Ranking Points. The tabs at the top go to different locations in the ranking table: Your Location, Top Ranking, and 501st ranking. The first is the default and shows where you are in the rankings, the second shows the top ranking, and the third shows the score to beat for the lowest monthly ranking rewards.
Friend Fleet
Edit

Not yet implemented.
Card Display
Edit
Also known as the "kandex". A page listing all the various Ship (left tabs 1-5), and Equipment (left tabs 1-3) cards from the ships and equipment you've collected. The top tabs go to different pages of cards. Currently there are ___ ships and ___ equipments in the game to collect.
Inventory/Shop
Edit

Regular Items
Edit
Here are a variety of items in your stockpiles. These vary from your supply of instant repair buckets, development materials, and furniture coins, to event items like the valentine chocolates, dock unlock keys, and the Class-A medal. See Shop for a full listing.
Shop Items
Edit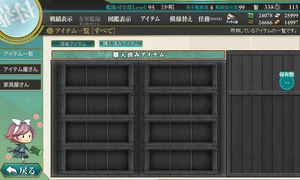 In this second tab of the inventory, packages purchased from the Cash Shop are stored until opened. Once opened, the contents are added to the stockpiles in the first tab.
Cash Shop
Edit
Regular Corner
Edit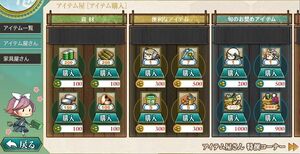 Say hi to Akashi in the Shop. Here you can spend DMM points (cash money) on various resources and dock keys. More information in the Shop page and Shop/Purchasing for how to get DMM points.
Clicking the >> button in the lower right will take you to the Special Corner, where some additional items are for sale.
Special Corner
Edit
Also in the Shop page. Generally better deals in the main page.
Clicking the << button in the lower left will return you to the Regular Corner.
Furniture Shop
Edit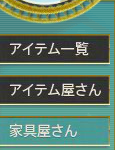 The third tab of the screen takes you to the furniture shop. Here you can spend Furniture Coins (Quantity in the lower right) on nicer furnishings for your office/home screen. Some furniture can only be purchased during certain seasons.
The rounded shop tabs highlight the type of furniture and are (roughly):
Walls, Flooring, Chairs, Windows, Hanging, Cabinet
Selecting one will open the
Furniture
Edit
Tired of the moving boxes and cheap flooring? Refurbish your Home screen with nicer furniture! Here you take the nicer furnishings purchased from the Furniture Shop and put them into your office/home screen. See Furniture for a more complete listing.

Say hello to Ooyodo and the quests screen. Here you can activate, deactivate, and complete a variety of quests for rewards. See Quests for more detailed information.

This takes you straight to the Shop tab under the Inventory/Shop page.
Main Functions
Edit
_Image_
_Button Image Main_ _Button Image Sub_ _Screen Image_ The Organization screen is where you can form or reorganize your fleets...
_Button Image Main_ _Button Image Sub_ _Screen Image_ For resupplying ships after they've deployed.
_Button Image Main_ _Button Image Sub_ _Screen Image_ Refitting ships with new equipment
_Button Image Main_ _Button Image Sub_ _Screen Image_ Repairing damaged ships
_Button Image Main_ _Button Image Sub_ _Screen Image_ Constructing new ships and equipment, as well as
Improvement Arsenal
Edit

(find an image showing more Akashi) Once you collect Repair Ship Akashi, she will unlock the Improvement Arsenal, where equipment can be improved and upgraded to better equipment at a cost of resources, development materials
, and improvement materials

. For more information, see Akashi's Improvement Arsenal.
Deployment
Edit
_Button Image Main_ _Screen Image_
_Button Image Main_ _Screen Image_
Exercises
Edit
_Button Image Main_ _Button Image Sub_ _Screen Image_
Expeditions
Edit
_Button Image Main_ _Button Image Sub_ _Screen Image_