Underway Replenishment

Refittable Class
Coastal Defense Ship
Destroyer
Light Cruiser
Torpedo Cruiser
Heavy Cruiser
Training Cruiser
Aviation Cruiser
Fast Battleship
Battleship
Aviation Battleship
Light Carrier
Standard Carrier
Armored Carrier
Seaplane Tender
Submarine
Aircraft Carrying Submarine
Submarine Tender
Fleet Oiler
Repair Ship
Amphibious Assault Ship
Introduction
Edit
戦闘航海中の洋上で燃料弾薬を補給することが可能です。これを保持した状態で燃料弾薬が欠乏すると戦闘航海中に「洋上補給」が発動し、燃料弾薬が洋上で「補給」されます。長期戦となる艦隊決戦のサポートにご活用ください。
(発動すると消滅します)
This item can resupply fuel and ammunition at sea during combat. With this equipped during sorties when fuel and ammunition have become used up, the "Underway Replenishment" will occur and resources will be resupplied on the spot. Please use it to support the long sorties of the decisive battle.
(will disappear once activated and used)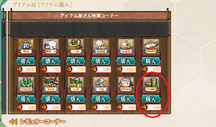 Unbuildable.
Single-use consumable item.
Can be purchased off the cash shop with 300 DMM points for 2.
Stock equipment of Hayasui and Hayasui Kai, can be equipped on Hayasui and Kamoi (in AO mode). Can be equipped on the expansion slot.
Allows to resupply fleet's fuel and ammo during a sortie before entering the boss node (fuel and ammo are known to affect evasion and damage, respectively). Before entering the boss node you will be asked if the item(s) should be used (許可 or 却下, choosing 許可 will consume the item(s)).
For normal fleet, replenishes 25% (rounded down) of fuel and ammo of all ships, 50% when two items are used. For combined fleet, replenishes 15% of fuel and ammo of all ships (both main and escort fleets), 30% for two items.
Used fuel and ammo will be detracted from your stockpile. Partial replenishment can occur when not having enough fuel/ammo, with 0 fuel/ammo the choice for replenishment won't appear. Married ships won't receive the usual 15% reduction for fuel/ammo consumption.
Can always be activated, regardless of Fleet Oiler fleet position, morale, or health, except when she is retreated using Fleet Command Facility.
Equipment List 

·

Gallery 

·

By Stats 

·

Development 

·

Akashi's Improvement Arsenal
Main Gun
Small
QF 4.7inch Mk.XII Kai 

·

12cm Single 

·

120mm Twin 

·

12.7cm Single 

·

12.7cm Twin (Model B 

·

Model C 

·

Model D) 

·

130mm B-13 Twin
AA
10cm HA 

·

12.7cm Single HA (Late Model) 

·

12.7cm Twin HA (Late Model) 

·

5inch Single Mk.30
AAFD
10cm HA + AAFD
Medium
14cm Single 

·

14cm Twin 

·

15.2cm Twin (Kai) 

·

15.5cm Triple (Kai) 

·

20.3cm ((No.2) 

·

(No.3)) 

·

SKC34 20.3cm 

·

203mm/53
Large
30.5cm Triple (Kai) 

·

35.6cm Twin (Proto 35.6cm 

·

(Dazzle Camo)) 

·

38cm Twin (Kai) 

·

38cm Quad (Kai) 

·

381mm/50 Triple (Kai) 

·

38.1cm Twin (/N Kai) 

·

16inch Mk.7 (+ GFCS) 

·

41cm Twin (Proto 41cm 

·

Kai) 

·

46cm Triple (Proto 46cm 

·

Kai) 

·

51cm Twin (Proto 51cm)
Secondary Gun
15cm Twin 

·

15.2cm Single 

·

OTO 152mm Triple 

·

15.2cm Triple 

·

15.5cm Triple (Kai)
AA
8cm HA (Kai + Additional Machine Guns) 

·

10cm HA (Carriage) 

·

10.5cm Twin 

·

12.7cm Twin HA
AAFD
90mm Single HA 

·

10cm HA Kai + Additional Machine Guns 

·

12.7cm HA + AAFD 

·

5inch Twin Mk.28 mod.2
Anti-Air
Machine Gun
7.7mm 

·

12.7mm Single 

·

2cm Flakvierling 38 

·

25mm Single (Twin 

·

Triple) 

·

3.7cm FlaK M42 

·

Bi Type 40mm Twin 

·

12cm 30-tube Rocket Launcher (Kai 2)
C.D.
25mm Triple (Concentrated Deployment) 

·

Bofors 40mm Quad 

·

QF 2-pounder Octo
Fire Director
Type 91 Anti-Aircraft Fire Director 

·

Type 94 Anti-Aircraft Fire Director
Torpedo Weapon
Torpedo
53cm Twin 

·

53cm Oxygen Bow 

·

533mm Triple 

·

61cm (Triple 

·

Quad) 

·

61cm Oxygen (Triple (Late Model) 

·

Quad (Late Model) 

·

Quint 

·

Proto Sext)
Sub
Submarine 53cm Bow (8 tubes) 

·

Prototype FaT Type 95 Oxygen Torpedo Kai 

·

Late Model Bow Torpedo Mount (6 tubes) (+ Skilled Sonar Personnel)
Midget Sub
Kouhyouteki
Carrier-based Aircraft
Fighter
Type 96 Fighter (Kai) 

·

Zero (Model 21 (Skilled 

·

Iwamoto) 

·

Model 32 (Skilled) 

·

Model 52 (Skilled 

·

52A Iwamoto 

·

52C 601 

·

52C Iwai) 

·

Model 53 (Iwamoto)) 

·

Shiden (Kai 2 

·

Kai 4) 

·

Reppuu (Kai 

·

601) 

·

Shinden Kai 

·

Bf 109T Kai 

·

Fw 190T Kai 

·

Reggiane (Re.2001 OR Kai 

·

Re.2005 Kai) 

·

Wildcat (F4F-3 

·

F4F-4) 

·

Hellcat (F6F-3 (N) 

·

F6F-5 (N)) 

·

Fulmar 

·

Seafire Mk.III Kai
Torpedo Bomber
Type 97 (Skilled 

·

931 

·

Tomonaga 

·

Murata) 

·

Tenzan (931 

·

601 

·

Model 12 Tomonaga 

·

Model 12 Murata) 

·

Ryuusei (Kai 

·

601) 

·

Re.2001 G Kai 

·

Swordfish (Mk.II (Skilled) 

·

Mk.III (Skilled)) 

·

TBD 

·

TBF (TBM-3D)
Dive Bomber
Type 99 (Skilled 

·

Egusa) 

·

Suisei (Model 12A 

·

Egusa 

·

601) 

·

Type 0 Fighter Model 62 (Fighter-bomber) (Iwai) 

·

Type 0 Fighter Model 63 (Fighter-bomber) 

·

Prototype Nanzan 

·

Ju 87C Kai 

·

SBD 

·

F4U-1D 

·

FM-2 

·

Skua 

·

SB2U
Recon
Saiun (Eastern Caroline 

·

4th Recon Squad) 

·

Type 2 Recon 

·

Prototype Keiun
Seaplane
Flying Boat
Type 2 Large Flying Boat 

·

PBY-5A Catalina
Recon
Type 0 Recon (Model 11B (Skilled)) 

·

Type 0 Observation 

·

Shiun 

·

Type 98 Night Recon 

·

Ar196 Kai 

·

Ro.43 Recon 

·

OS2U
Bomber
Zuiun (631 

·

634 

·

634/Skilled 

·

Model 12 

·

Model 12 634) 

·

Seiran (Prototype Seiran 

·

631) 

·

Laté 298B
Fighter
Ro.44 Seaplane Fighter (bis) 

·

Type 2 Seaplane Fighter Kai (Skilled) 

·

Kyoufuu Kai
Land-based Aircraft
Attack
Type 96 

·

Type 1 (Nonaka 

·

Model 22A 

·

Model 34) 

·

Ginga
Patrol
Toukai (Prototype 

·

901)
Fighter
Interceptor
Raiden 

·

Shiden (Model 11 (Model 21 

·

Kai (343) 301st Sq.))
IJA/Foreign
Type 1 Fighter Hayabusa (Model II (64th Sq.) 

·

Model III A (54th Sq.)) 

·

Type 3 Fighter Hien (244 

·

Model 1D) 

·

Type 4 Fighter Hayate 

·

Spitfire (Mk.I 

·

Mk.V 

·

Mk.IX (Skilled))
LBAA-IJA
Bomb-carrying Type 1 Fighter Hayabusa Model III Kai (55th Squadron)
Jets
Fighter-Bomber
Jet Keiun Kai 

·

Kikka Kai
Anti-submarine Warfare
Patroller
Ka Type Observation Autogyro 

·

Type 3 Command Liaison Aircraft (ASW)
Depth Charge
Projector
Type 94 Depth Charge Projector 

·

Type 3 Depth Charge Projector ((Concentrated Deployment)) 

·

Prototype 15cm 9-tube ASW Rocket Launcher
Additional
Type 95 Depth Charge 

·

Type 2 Depth Charge
Sonar
Type 93 Passive Sonar 

·

Type 3 Active Sonar 

·

Type 0 Passive Sonar 

·

Type 4 Passive Sonar 

·

ASDIC (Type124 ASDIC 

·

Type144/147 ASDIC 

·

HF/DF + Type144/147 ASDIC)
Shell
Type 3 Shell 

·

Type 91 Armor Piercing Shell 

·

Type 1 Armor Piercing Shell
Anti-Ground
WG42 (Wurfgerät 42)
Amphibious and Transport
Landing Craft
Daihatsu Landing Craft ((Type 89 Medium Tank & Landing Force)) 

·

Toku Daihatsu Landing Craft (+ 11th Tank Regiment)
Tank
Special Type 2 Amphibious Tank
Drum
Drum Canister (Transport Use)
Material
Saiun (Disassembled for Transport)
Radar
Small Air
Type 13 Air Radar (Kai)
Large Air
Type 21 Air Radar (Kai) 

·

Type 14 Air Radar 

·

15m Duplex Rangefinder + Type 21 Radar Kai 2 

·

FuMO25 Radar 

·

SK Radar (+ SG)
Small Surface
Type 22 Surface Radar (Kai 4 

·

Calibrated Model) 

·

Type 33 Surface Radar
Large Surface
Type 32 Surface Radar (Kai)
Submarine
Submarine Radar (& Waterproof Telescope 

·

& Passive Radiolocator (E27))
Engine
Turbine
Improved Kanhon Type Turbine
Boiler
Enhanced Kanhon Type Boiler 

·

New Model High Temperature High Pressure Boiler
Bulge
Anti-torpedo Bulge (Medium 

·

Large) 

·

New Kanhon Design (Medium 

·

Large) 

·

Pugliese Underwater Protection Bulkhead 

·

Arctic Camouflage (+ Arctic Equipment)
Night Battle Aid
Searchlight 

·

Type 96 150cm Searchlight 

·

Star Shell
Support Item
Emergency Repair Personnel (Repair Goddess) 

·

Combat Ration ((Special Onigiri) 

·

Canned Mackerel) 

·

Underway Replenishment
Personnel and Facility
Fleet Command Facility 

·

Striking Force Fleet Command Facility 

·

Ship Repair Facility 

·

Skilled Carrier-based Aircraft Maintenance Personnel 

·

Night Operation Aviation Personnel (+ Skilled Deckhands) 

·

Skilled Lookouts